Maldee Choice Scrap & Metal - Scrap Metal, Scrap Copper, Aluminum & Catalytic Converter Buyer in Brampton, Mississauga, Toronto, Oakville, Milton, Vaughan, Scarborough and all Greater Toronto Area.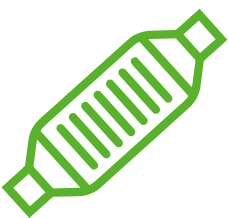 Catalytic Converters
Catalytic Converter buyer & Catalytic Converter Recycling Center in Brampton ON. We buy any quantity at best cash price for GMC Converters, Honda Converters, Domestic Converter, Diesel Converters, Foreign Converters, Ford Converters plus all type of catalytic converters.
Scrap Metals for Cash
Scrap metals like Iron, Copper, Brass, Aluminum, Steel, Zinc, Carbide, Platinum, Palladium, Rhodium plus all other scrap metals for cash. We also buy scrap alternators, steel and copper cables and wires, copper and brass fixtures, metals sheets, pipes, aluminum door & windows, steel and aluminum rims.
Used Auto Parts
We also sell used auto parts of all type for all make and model of vehicles. We have vrierty of vehicles in our
wrecking yard
you can pull parts out off. We can also deliver car parts to all Peel Region and GTA. Call now for any inquiry and requirement.
Why choose MCSM
Maldee Choice Scrap Metals?
---
---
There are so many reasons to choose us as best Scrap Yard in Brampton, some reasons are here under
We are fully licenced with more than 10 year of experience in industry.
We paid guaranteed top dollar cash for catalytic converters, scrap batteries and all type of scrap metals.
We are 100% ECO Friendly and trade in all type of scrap products.
Fresh from our blog
Read our article stay up to date with latest news about scrap metals and recycling industry.
100% ECO Friendly
Recycling scrap metal is one of the steps you can take to improve the way you work in regards to helping the environment and match current consumer buying trends. We buy scrap metals, used batteries and scrap catalytic converts professionally and sell all materials to 100% Eco friendly recycling companies.
Help us to make this world a better place